---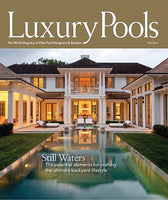 LP Fall 2014
Luxury Pools
Regular price $14.99
Luxury Pools Fall 2014 "Still Waters"
Spectacular swimming pools and poolscapes created by 33 premier designers and builders are featured in this beautiful, coffee table-type magazine.
The Fall 2014 edition features exceptional poolscapes and profiles of the elite artisans who create them. This is the definitive guide to the world's most prestigious and honored pool builders.