---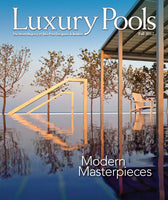 LP Fall 2012
Luxury Pools
Regular price $14.99
Spectacular swimming pools and poolscapes created by 35 premier designers and builders are featured in this beautiful, coffee table-type magazine.
The Fall 2012 edition features exceptional poolscapes and profiles of the elite artisans who create them. This is the definitive guide to the world's most prestigious and honored pool builders.
Striking color photographs of magnificent swimming pool designs, unique water features and trend-setting residential poolscapes.
Designed to appeal to owners of upscale residences and vacation homes who are considering the addition of a high-end swimming pool…and for all who like to dream.
120 pages of the world's finest and most elegant and imaginative pool designs, a great guide to achieving a truly glamorous showcase to your property.
Unique swimming pool designs are displayed for nearly every style of architecture, terrain and property.